Find out if we cover your area
Dog Agility Training in Somerset, Bristol and Bath.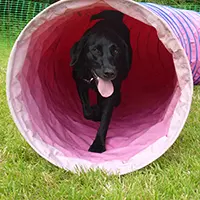 We now offer Dog Agility Training in conjunction with Leap Dog Agility. Dog agility is a fun way for both you and your dog to keep fit while improving your dog's focus and confidence. Fit, focused, confident dogs are happy dogs! We offer a number of different courses over the summer and autumn to dogs with basic commands and who are sociable, including Introductory courses (6 weeks), Intermediate classes and Young Handlers courses. All dogs partaking in our agility classes must be over one year old. Male dogs must be neutered and female dogs cannot attend the classes if they are in season. For prices and course availability please get in touch with Julia on
bath@friendsforpets.co.uk
Dog Agility Benefits
Great way to keep you and your dog physically fit and continue building your relationship
Agility is mentally stimulating therefore exercising your dogs mind and allowing it to solve problems.
Builds young handlers experience, confidents and allows them to make friends.
Some feedback about our Dog Agility Training
"Fantastic class for beginners and everything is done at your dogs pace, looking forward to the next course" TY
Our Dog Agility Courses
Our range of dog walking and pet sitting services
Introductory course (6 weeks x1hr) - £54
This is a beginners course teaching the key dog-handling techniques used in agility and how to use the agility equipment. On successful completion of the introductory course you will be eligible to attend our ongoing intermediate classes throughout the summer and autumn.
Intermediate classes - £9 per session (45 mins)
These classes are aimed at adult handlers with previous dog agility experience.
Young handler course - £7.50 per session (45 mins)
For handlers aged 8 to 15 we will hold 45-minute sessions on Wednesday mornings starting 20th July until 31st August. These classes cover essential dog training techniques and the basics of agility through fun games and challenges! All under-16s must be accompanied by an adult.
Location
Our summer classes will be held at our outdoor arena in Abson near Wick.