Dog Walking and Pet Sitting in Potters Bar
Dog Wallking in Potters Bar and Welham Green
Our range of dog walking and pet sitting services
Friends for Pets Dog Walking Team in Potters Bar, Welham Green and surroudning areas was established in 2013. The Potters Bar Dog Walking Team is managed by Amanda. She has a small team of animal loving dog walkers in Potters Bar and Welham Green who are able to offer a great range of pet sitting services in Hertfordshire. We can provide dog walking services to a large area of Hertfordshire including Potters Bar, Barnet, Hatfield, Cuffley, Northaw, Welham Green, Enfield and surrounding areas. Our dog day care in Hertfordshire has proven to be a very popular service already as well as our dog walking in Potters Bar and cat sitting services. All of our Potters Bar dog walking team are fully insured and hold a basic disclosure adding the extra benefit of having home security whilst you are away from your home. One of our favourite places to dog walk in the area is Northaw Great Wood.
Dog Day Care & Dog Walking in Potters Bar Team Manager!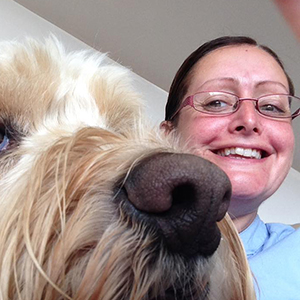 Our Potters Bar and Welham Green Dog Walking team is managed by Amanda. Amanda is married with two children. Prior to working at Friends for Pets Amanda had a dog for 14 years. After her dog passed away Amanda missed the doggy company greatly and decided to join Friends for Pets as a pet carer in 2013. She took over the role of Area Manager for Potters Bar in 2014 and can offer all services herself as well as through her excellent team of pet carers.
Dog Walkers available in Potters Bar
The areas that our dog walkers currently cover are Potters Bar, South Mimms, Northaw, Cuffley, Barnet, Brookmans Park, Welham Green, Hatfield, Colney Heath, Enfield and surrounding areas.
Dog Walking & Pet Sitting Services in Potters Bar
Our Potters Bar and Welham Green Dog Walking Team are able to offer a range of pet care services in the local areas. Our pet and cat sitting services in Potters Bar can be tailored to your individual pet's requirements. It is a great alternative to dog kennels and catteries in Potters Bar allowing your pet to stay in a home environment or their own home whilst you are away for the day or on holiday. Our pet sitting services include:-
Dog Walking in Potters Bar and surrounding areas
Dog Boarding (Licensed with Hertsmere Council License no. HBC-DDB-021-1)
Dog Day Care (Licensed with Hertsmere Council License no. HBC-DDB-021-1)
Pet Sitting
Small Animal Boarding
Cat Sitting
House Sitting
Puppy Walking and Visiting
All members of our Potters Bar Dog Walking Team are fully insured and have a minimum of a basic Disclosure.
Our Potters Bar Dog Walking Team Prices
Service

Price

Dog Walking 1hr

£11

Dog Walking 30 mins

£9

Pet Visiting

From £7

House Sitting

From £35

Small Pet Boarding

From £5
Potters Bar Dog Walking Team Reviews
M.S., Potters Bar
*****
Thank you for looking after Fluffy. It is nice to know there is someone I can trust to look after him when I am away. I did not think it possible but he is even more spoilt now than before lol. See more
Potters Bar reviews.
X
You are now added to our mailing list.
You can unsubscribe at anytime.
FRIENDS FOR PETS PRIVACY POLICY 2018
Friends for Pets ( "We" ) are committed to protecting and respecting your privacy. This policy (together with our terms of use
https://www.friendsforpets.co.uk/terms-and-conditions
) sets out the basis on which any personal data we collect from you, or that you provide to us, will be processed by us. Please read the following carefully to understand our views and practices regarding your personal data and how we will treat it. For the purpose of the General Data Protection Regulation (GDPR), the data controller is RWJW Limited of Nether Crag, School Lane, Rowberrow, Somerset, BS25 1QP. Our nominated representative for the purpose of the regulation is Rebecca Wilson.
WHAT INFORMATION DO WE COLLECT FROM YOU?
We will collect and process the information you give us when filling in forms on our website www.friendsforpets.co.uk or by correspondence with us on the phone, e-mail or otherwise. This includes information you provide to register your interest in using our services, subscribe to our newsletter, confirming a booking with us, making a job application or franchise information enquiry and when you alert us to an issue with our website or company. The information you give us may include your name, address, e-mail address and phone number. If you do not wish to provide some of this information it may make it more difficult for us to carry out a booking for you but we will do our best to help you with whatever information you feel happy providing. Website usage is collected using cookies. Information about our website users may be collected by google analytics to help us improve and optimise our site for our users.
SENSITIVE DATA
For people who go on to become pet carers, we ask for you to obtain and to show a copy of a CRB or DBS check certificate to the area manager. This is done at the final point of recruitment and the purpose is to promote the security of our client's homes and pets that you have access to during your work with us. We do not store a copy of this, only that we have seen it and that it was positive. We ask team members to hold on to this copy themselves in case a client wishes to see it. If any discrepancies are highlighted in the CRB or DBS, pet carers will be given the opportunity to discuss and explain these. If the manager is unsure how to proceed they may discuss this in person, not via email, with Rebecca Wilson at head office but anonymising the pet carer in question.
HOW WILL WE USE THIS INFORMATION ABOUT YOU?
We use information you have given us to provide you with the information and services that you request from us. If you agree, we will contact you via e-mail only to send you a newsletter containing company news, changes or updates to our services, details of upcoming events and career opportunities on an infrequent basis. We use information collected from the website by cookies to personalise your repeat visit to our website. We do not share your information that we collect to third parties.
HOW DO WE STORE YOUR INFORMATION?
All information you provide to us is stored on our secure servers. Where we have given you (or where you have chosen) a password which enables you to access certain parts of our site, you are responsible for keeping this password confidential. We ask you not to share a password with anyone. Unfortunately, the transmission of information via the internet is not completely secure. Although we will do our best to protect your personal data, we cannot guarantee the security of your data transmitted to our site; any transmission is at your own risk. Our site is secured with SSL Certificates and we review our IT security on a frequent basis to ensure that we have the latest updates and software. Once we have received your information, we will use strict procedures and security features to try to prevent unauthorised access. Your information will be removed from our day-to-day database and archived and anonymised after one year of you not using our services. We delete any excessive data. All paper documents will be disposed of securely. If you wish for us to keep your data for longer than this please let us know. We are happy to reinstate your information at any point in the future should you wish to use our services again.
KEEPING YOUR INFORMATION UP TO DATE
If any information about you or your pet changes then please let us know so we are able to update our records. We will ask you to fill in a registration form on an annual basis as a matter of routine just to ensure we have everything up to date.
WHO HAS ACCESS TO YOUR DATA
Your personal information can be accessed by the local franchisee or manager and Friends for Pets head office. Friends for Pets uses sub-contractors ( "pet carers" ) to carry out services for us and they will be provided with your details in case of an emergency with your pet and also so they are able to find your home to carry out your booking with us. You will have the opportunity to meet your pet carer who is carrying out a booking for you to ensure you are happy with these arrangements beforehand. If you do not wish for a pet carer to be given access to any part of your information then please let us know. In the event that we sell or buy any business or assets, we will disclose your personal data to the prospective seller or buyer of such business or assets but as late on in the process as possible. If Friends for Pets or any of it's franchises are acquired by a third party, the personal data held by it about its customers will be one of the transferred assets.
MARKETING
We would like to send you electronic information about company news, changes or updates to our services, details of upcoming events and career opportunities on an infrequent basis which may be of interest to you. We only use email marketing from email addresses from our staff, clients and people who have opted in to our mailing list. If you have consented to marketing you may opt-out at any time at a later date. For existing customers before May 2018, the 'soft opt-in' option will apply to those that have not taken up the opportunity to opt out of our mailing lists. You are given the opportunity in every newsletter to opt out of the mailing list. If you no longer wish to be contacted for information updates you can let us know at any time of click the 'unsubscribe' button in every newsletter. If you are not opted-in to our mailing list we will only contact you regarding a specific booking. We send our invoices via email to help save costs and the environment. The invoice contains your name and address. If you would prefer to receive the invoice in an alternate method please let us know.
ACCESS TO YOUR INFORMATION AND CORRECTION
You have the right to request a copy of the information that we hold about you. If you would like a copy of some or all of your personal information, please email or write to us using the contact details at the end of this Privacy Policy. We may make a small charge for this service. We want to make sure that all information we hold is accurate and up to date. You may ask us to correct or remove information that you think is inaccurate.
COOKIES
Cookies are text files placed on your computer to collect standard internet log information and visitor behaviour information. Our website uses cookies to distinguish you from other users of our website. This helps us to provide you with a good experience when you browse our website and also allows us to improve our site. For further information visit
www.aboutcookies.org
or
www.allaboutcookies.org
. You can set your browser not to accept cookies and the above websites tell you how to remove cookies from your browser. However in a few cases some features of our website may not function as a result.
CHANGES TO OUR PRIVACY POLICY
Any changes we make to our privacy policy in the future will be posted on this page and, where appropriate, notified to you by e-mail. Please check back frequently to see any updates or changes to our privacy policy. This privacy policy was last updated on 18
th
May 2018.
YOUR RIGHTS
You have the right to ask us not to process your personal data for newsletter purposes. We will inform you (before collecting your data) if we intend to use your data for such purposes. You can exercise your right to prevent such processing by leaving 'opt-in' boxes un-checked on the forms we use to collect your data. You can also exercise the right at any time by contacting us at via email or writing to us using the details at the bottom of this document or clicking unsubscribe on all newsletters. Our site may, from time to time, contain links to and from the websites of our partner networks, advertisers and affiliates. If you follow a link to any of these websites, please note that these websites have their own privacy policies and that we do not accept any responsibility or liability for these policies. Please check these policies before you submit any personal data to these websites.
COMPLAINTS
We take the handling of people's data very seriously so will do our very best to resolve any issue that may crop up promptly. Please contact us as soon as you can on the details at the bottom of this document. If you do not feel that we have resolved your complaint satisfactorily you have the right to lodge a complaint with the Information Commissioner's Office.
HOW TO CONTACT US
Questions, comments and requests regarding this privacy policy are welcomed and should be addressed to
headoffice@friendsforpets.co.uk
or Friends for Pets,
Nether Crag,
School Lane,
Rowberrow,
Somerset,
BS25 1QP.