We have had a very busy year at Friends for Pets providing lots of high quality pet services to our clients big and small! We have opened up a new branch of Friends for Pets in Barry and the Vale of Glamorgan which is run by the lovely Catherine Clarke. The launch has been very successful so far with lots of clients already using our small team of pet carers in the area. Thank you for your support and custom through 2016, we really do appreciate it and are working hard on continuing to improve all of our services that we offer. If you do have any suggestions to help us improve please get in touch with your local manager or Becca at head office on becca@friendsforpets.co.uk. Instead of sending Christmas cards we have given a donation to the charity Hounds for heroes (please see their website http://houndsforheroes.com/ for more information about them).
We wish you and your pets a very Merry Christmas and a Happy New Year.
Best Wishes
Becca and the Friends for Pets Team x
Bradford-on-Avon & Frome Manager's charity work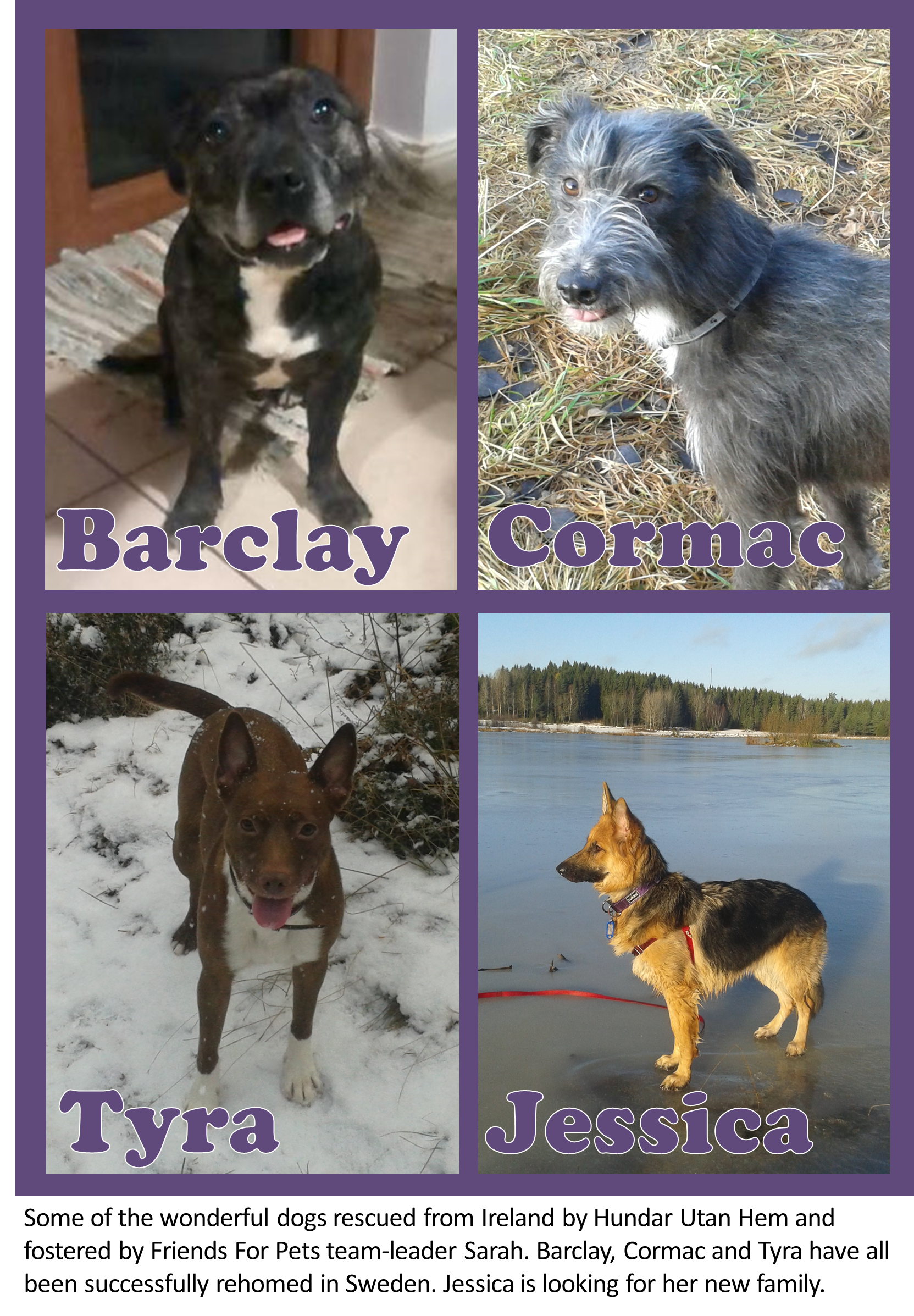 Sarah, one of our lovely managers, has been doing some work with the Swedish non-profit organisation during her stays in Sweden. Here is a little bit about her work…
"As a team-leader at Friends For Pets I am passionate about animal welfare. Last year I went to Sweden and volunteered with a Swedish non-profit organisation, Hundar Utan Hem, which rehabilitates and rehomes abandoned dogs from Sweden and Ireland. This year I have returned to Sweden to help more dogs in need and I am currently fostering a beautiful one-year-old German shepherd called Jessica. Like so many other dogs, Jessica was dumped outside a pound in Ireland when she was just a few months old and would have been destroyed if it were not for the tireless efforts of Irish dog rescue organisations and Hundar Utan Hem. Now she is safe and happy and has a bright future ahead of her. This Christmas, remember how much joy your pets bring to your life and please do what you can to support your local animal welfare and rescue charities. For more information about the work please visit http://www.hundarutanhem.se/English/."
Dog charity collections
We have been collecting equipment and food donations for the charity Dogs Friends (http://dogsfriends.me.uk/) throughout the year and matching donations with a monetary donation from Friends for Pets. This year we have raised £150 with matched monetary donations. Thanks to Axe Valley Vets and the Pet Shop in Cheddar who allowed us to place our collection bins with them as points for people to drop goods off as well as everyone who donated through the year, we really are very grateful.
Dog Agility Classes
This Summer we started our Leap Dog Agility classes in Pucklechurch. We held Introductory courses, young handlers and Intermediate sessions. All dogs and handlers had lots of fun, learning agility techniques and playing lots of games at the same time. Our agility will start again in the Spring, we will be taking bookings in the New Year so if you would like further details, and to be added to our mailing list, please email Julia on bath@friendsforpets.co.uk
Awards
We have had a successful year from the business side of things being made a finalist for Customer Service Excellence in the Sedgemoor Business Awards and our Bath Franchise owner, Julia, was made Franchisee of the Year Award winner of the National Mum and Working Awards. We are very honoured to have been part of these awards.
Christmas Office Hours
Although we are carrying out pet care everyday over the Christmas holidays we will be 'shutting' our offices from 5pm on Wednesday 21st December and reopening on Tuesday 3rd January 2017. This is just so our managers can have a little break over the Christmas period. Email and voice messages will be checked over this time and anything urgent dealt with otherwise we will get back to you on Tuesday 3rd January.
Pet Carer Award Scheme
Our Pet Carer Training and Award scheme has been rolled out this year with much success and we have developed this even further ready for launch in 2017. Pet carers will now receive training in Pet Nutrition, Behaviour and Communication, Health and Disease, Common Behavioural Issues, Handling Skills, Dog Law, Pet First Aid Skills as well as common traits, health and behavioural issues of different dog types. We hope this will continue to improve the quality of our services by having an even more knowledgeable and experienced team.
Franchise Opportunities
In 2017, we are preparing to relaunch our Franchise opportunities with different options to help grow the Friends for Pets brand. If you or anyone you know are interested in launching your own pet care company or would like further information sent to you on relaunch in the spring please email becca@friendsforpets.co.uk. We are also keen to hear from people currently running their own pet care company wanting support in doing this.
Find us on Social Media at:
If you have any social media accounts we have lots of extra info, pictures of our clients and lots of news through out social media pages. If you would like to follow us our details are:- See you on Facebook at: https://www.facebook.com/FriendsforPets?ref=hl
See you on LinkedIn at: http://www.linkedin.com/company/friends-for-pets
Follow and Tweet us on Twitter at: https://twitter.com/FriendsforPets
Team Contact Details
Other Enquiries or Franchise Enquires – becca@friendsforpets.co.uk
All the Best from
Friends for Pets