How to Become a Franchisee.
Find out if we cover your area
What are we looking for in a potential franchisee?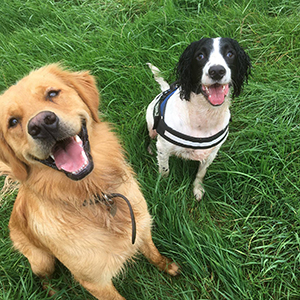 It is a common thought and article topic that Dog Walking is a quick and easy way to make some extra money. If this is why you are interested in working with us please do not contact us. The article is wrong and we will not be granting you one of our franchises. We are looking to recruit people with:-
A desire to own and run their own business.
A desire to provide the best standard of Pet Care in the Country.
Energy.
Enthusiasm.
A love of animals and a desire to improve Animal Welfare standards in the Pet Care Industry.
Good interpersonal skills.
A pro-active approach to business planning and development.
A want to be the best in their industry.
More animal driven than money driven. Unsurprisingly the more animal driven you are the more successful financially you will be!
We do not accept everyone as a franchisee. Deciding to buy a Friends for Pets animal franchise is a two- way decision between ourselves and you. We have a comprehensive selection process to ensure that the decision is right for everyone involved.
Could you be our next success story?
For all your next steps in finding out more about a Friends for Pets franchisee get in touch on the below head offie email where we can assist in the below and anything else.
Download a Prospectus.
Book a Phonecall with our Founder.
Attend a Discovery Session with Us at our Head Office near Cheddar in Somerset.
We will then set up a second meeting to discuss your potential franchise in more detail. If after this meeting, should you wish to proceed then at this stage we will take a deposit to secure your territory and give you a draft copy of your franchise agreement and a copy of detailed financial information to read. You can start to get your business plan together.
At our final meeting we would cover any final questions, receive the balance of the franchise fee and both sign the agreement.
Alongside your business development manager, you will plan your franchise launch and get your business set up.
At the same time we will arrange for you to attend your initial tailored training program.
Your Company Launch!