Dog Walking in Brecon
Our range of dog walking and pet sitting services
The Brecon team was established in 2021 and is managed by Lucy. Lucy and the Brecon dog walkers can provide a range of dog walking and other pet care services, including pet visits, small animal boarding, and overnight house sitting. We will soon be expanding our offering to include overnight boarding and doggy day care. We also offer bespoke wedding packages to allow your pet to be a part of your special day. We aim to tailor our services to the needs of you and your pet so please always ask us if you are interested in a different service and we will do our utmost to help. Your animal's welfare and the security of you and your pet are our paramount concern and we are, of course, fully insured. All of our pet carers hold a basic disclosure and are trained in canine first aid and all of our managers are trained First Responders. We do not arrive at your home in sign written vehicles so as to protect the security of you, your family, your pet and your home. We offer our pet carers ongoing training and support. There are so many fantastic places to walk in Brecon but some of our favourites include:-
Priory Groves
The Prom
Island Fields
Pen-y-Crug
For more details of other walks in the Brecon area please check out our
Top 10 Dog Walks around Brecon
Our Brecon Dog Walker Team Manager!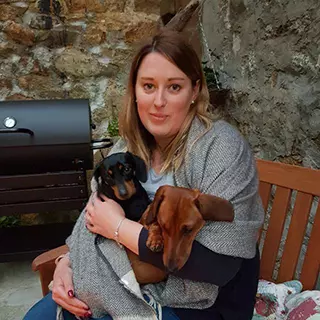 Lucy manages the Brecon Pet Sitting and Dog Walking Team. She lives in Brecon with her two fur babies, Maisie and Alfie the miniature dachshunds. She has always been an animal lover, having grown up in the Brecon area with cats and dogs in her family, as well as guinea pigs, hamsters, fish and even terrapins at one point! Her background is in law and she qualified as a solicitor in 2010. In 2018, when Lucy lived in Bristol and was looking for day care options for Maisie and Alfie, she came across Friends for Pets. She ended up having a conversation with Becca which turned out to be life changing – it came at a time when Lucy was feeling totally disillusioned with working full time in an office environment. She knew she wanted to do something else so when Becca mentioned that an opportunity had come up in the Bristol team she jumped at the chance, and the rest is history! The Bristol team is now being run by Kirsty as Lucy has moved back to her roots in Brecon! We now have an absolutely amazing pet care offering in the Brecon area. All of our pet carers have close relationships with their clients and their pets and the team really does aim to be part of your extended family! Lucy and her team can offer dog walking, pet visits, overnight house sitting and other services tailored to the needs of you and your pet. The team will soon be expanding to offer overnight dog boarding and doggy day car. Lucy is always looking for excellent pet carers to join the team, so if you are interested in a role with us please apply via our website.
Brecon Dog Walking Team Coverage
Our Dog Walking team in Brecon covers a wide area including:- Brecon, Bronllys, Talgarth, Bwlch, Cradoc, Llyswen, Llangors, Talybont-on-Usk, Sennybridge, Three Cocks, Glasbury, Felinfach. We cover the whole of the LD3 area and we are currently expanding our offering into LD2, LD4 and LD5. Please ask us if we cover your area.
Brecon Dog Walker and Pet Sitting Service List
Our Brecon team is able to provide all pet care services to clients. We aim to tailor our services to our clients' needs, but our pet care services include:-
Dog Walking in Brecon
Pawsome Adventure Walks
Pet Sitting in Brecon
Small Animal Boarding
Cat Sitting in Brecon
House Sitting
Horse Care
Bespoke Wedding Packages
Puppy Walking and Visiting
The Brecon team is fully insured and all of our pet carers have a minimum of a basic disclosure, as well as training in canine first aid. Our managers are qualified Canine First Responders.
Our Brecon Dog Walking Team Prices
Service

Price

Dog Walking 1hr

From £14.50

Pawsome Adventure Walks

POA

Pet Visiting

From £8

House Sitting

From £35

Small Pet Boarding

From £10.00
Some of our lovely Brecon team clients!