Dog Walking in Brecon
Our Brecon dog walking team
The Brecon team was established in 2021 and is managed by Lucy. Lucy and the Brecon dog walker team can provide a range of dog walking and other pet care services, including pet visits, small animal boarding, and overnight house sitting. We will soon be expanding our offering to include overnight boarding and doggy day care. We also offer bespoke wedding packages to allow your pet to be a part of your special day. We aim to tailor our services to the needs of you and your pet so please always ask us if you are interested in a different service and we will do our utmost to help. Your animal's welfare and the security of you and your pet are our paramount concern and we are, of course, fully insured. All of our pet carers hold a basic disclosure and are trained in canine first aid and all of our managers are trained First Responders. We do not arrive at your home in sign written vehicles so as to protect the security of you, your family, your pet and your home. We offer our pet carers ongoing training and support. There are so many fantastic places to walk in Brecon but some of our favourites include:-
Priory Groves
The Prom
Island Fields
Pen-y-Crug
For more details of other walks in the Brecon area please check out our
Top 10 Dog Walks around Brecon
Our Brecon Dog Walker Team Manager!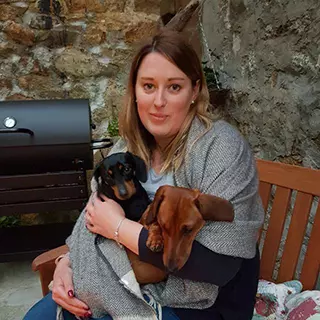 Lucy manages the Brecon Pet Sitting and Dog Walking Team. She lives in Brecon with her two fur babies, Maisie and Alfie the miniature dachshunds. She has always been an animal lover, having grown up in the Brecon area with cats and dogs in her family, as well as guinea pigs, hamsters, fish and even terrapins at one point! Her background is in law and she qualified as a solicitor in 2010. In 2018, when Lucy lived in Bristol and was looking for day care options for Maisie and Alfie, she came across Friends for Pets. She ended up having a conversation with Becca which turned out to be life changing – it came at a time when Lucy was feeling totally disillusioned with working full time in an office environment. She knew she wanted to do something else so when Becca mentioned that an opportunity had come up in the Bristol team she jumped at the chance, and the rest is history! During the pandemic, Lucy returned to her roots in Brecon and launched the Brecon dog walking team. Lucy now has a fantastic team of pet carers, as well as her area supervisor Elen. We now have an absolutely amazing pet care offering in the Brecon area. All of our pet carers have close relationships with their clients and their pets and the team really does aim to be part of your extended family! Lucy and her team can offer dog walking, pet visits, overnight house sitting and other services tailored to the needs of you and your pet. The team will soon be expanding to offer overnight dog boarding and doggy day car. Lucy is always looking for excellent pet carers to join the team, so if you are interested in a role with us please apply via our website.
Our Brecon Dog Walking Team Assistant Manager, Elen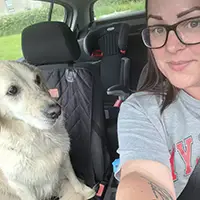 Hi, I'm Elen, or Ellie. I grew up in Wales, and moved back to Brecon in 2016 where I started a family. When Lucy started the Brecon branch of Friends for Pets I jumped at the opportunity to spend time with animals. I love being out walking and spending time with dogs. I truly believe it's good for the soul. We are so lucky to live in such a beautiful part of the UK and I love finding new walks to do.
I'm really passionate about quality pet care, I think it's so important and my motto is "I treat them like they're my own" and I really do stand by it.
I also love helping to manage our Bristol team!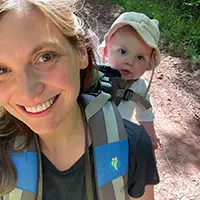 Hello!! My name is Harriet! I live in Hay on Wye and have two lovely pooches of my own, I switched my corporate London life to come home to wales and breathe country air! I wanted to become a pet carer because on the whole animals are better than humans!! I have grown up with dogs, cats, horses, ducks, chickens and various other small furries! My favourite part of my job is taking a tired and happy pup home to their mum or dad having had a good exciting walk, oh and being greeted by my doggy friends on arrival...and my least favourite part would have to be picking up the poop!!! Comes with the territory!! A fun fact about me......my little boy Stan accompanies me on most of my walks and loves watching the doggies play!!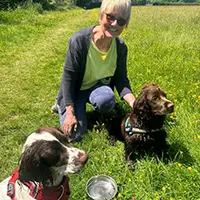 Hi, I'm Lesley, I have lived in Brecon for just over three years now, having moved from Devon to be nearer my daughter and her family. I have two lovely black cats. I wanted to become a pet carer because I enjoy spending time with animals. Having always had cats, I am now widening my horizons to walk dogs, visit cats and even feed chickens. It also means I get more exercise! I am enjoying getting to know many new animals - and also meeting some lovely pet owners. The worst thing about this job is realising how unfit I am!! Other facts about me? I am in the process of walking the South West Coast with two friends, and have started the Wales Coast Path.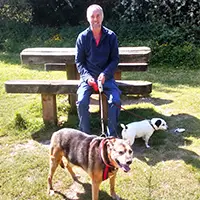 Hi, I'm Lee, in the photo I am the one with 2 legs!
I Live in Sennybridge. My last job I worked with horses which made me decide that I wanted to work with animals and in the outdoors Best part of the job is meeting different types of dogs, other pets and new people and walking in the fresh air. Worst part is getting drool on my clothes. (The dog's drool not my own!) I like to listen to music when I can (hope to build my viny and CD (collection!) and having days out with my wife, especially to the coast.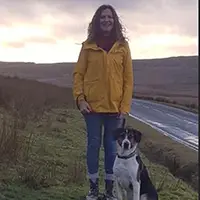 Hi, I'm Catrin, I live in Brecon. My sons dog Milo lived with us for 4 years then recently both moved out. Since then I have missed Milo's company and walking him. I love animals and making a difference to their lives, keeping them safe and caring for them. Being a pet carer can be challenging but very rewarding. The hardest part of being a pet carer is leaving dogs at home on their own after dropping them off after a walk and seeing their little faces looking at me going!!!
I'm a Welsh speaker who has Grade 5 in practical piano and theory, I also love reading novels.
Brecon Dog Walking Team Coverage
Our Dog Walking team in Brecon covers a wide area including:- Brecon, Bronllys, Talgarth, Bwlch, Cradoc, Llyswen, Llangors, Talybont-on-Usk, Sennybridge, Three Cocks, Glasbury, Felinfach, Hay-on-Wye and surrounding areas. We cover the whole of the LD3 area and we are currently expanding our offering into LD2, LD4 and LD5. Please ask us if we cover your area.
Brecon Dog Walker and Cat Sitting Service List
Our Brecon team is able to provide all pet care services to clients. We aim to tailor our services to our clients' needs, but our pet care services include:-
Dog Walking in Brecon
Pawsome Adventure Walks
Pet Sitting in Brecon
Small Animal Boarding
Cat Sitting in Brecon
House Sitting
Horse Care
Bespoke Wedding Packages
Puppy Walking and Visiting
The Brecon team is fully insured and all of our pet carers have a minimum of a basic disclosure, as well as training in canine first aid. Our managers are qualified Canine First Responders.
Our Brecon Dog Walking Team Prices
Service

Price

Dog Walking 1hr

From £16.00

Dog Walking 30mins

From £10.00

Pawsome Adventure Walks

POA

Pet Visiting

From £8

House Sitting

From £35

Small Pet Boarding

From £10 per cage per day
Some of our lovely Brecon team clients!
Brecon Dog Walking Team Reviews
R.C., Brecon
*****
All of the ladies we have met have been very professional & friendly. They put your mind at ease about leaving your cat home alone. Our cat doesn't like other cats, or people come to that, but it is a comfort to know she is bring fed & checked on. The sitters always send a photo showing your pet is ok. See more
Brecon reviews.