Dog Walking in Winford, Paulton and the Chew Valley
Our range of dog walking and cat sitting services
The Chew Valley Dog Walking team is a new area started in 2013 and was taken over by Vicki in 2019. We have a small dog walking team that can offer all pet sitting services from dog walking and doggy day care to in home pet care in Winford, Burrington, Blagdon, Dundry, Chew Magna, Bishop Sutton, West and East Harptree, Chew Stoke, Temple Cloud, Paulton, Cameley, Farrington Gurney, Clutton, Pensford and surrounding areas. Our Chew Valley team covers a wide area of the Chew Valley and the Mendips. All of our team are fully insured and hold a basic disclosure adding the extra benefit of having home security whilst you are away from your home. We have some beautiful dog walks in the area to take our doggy clients on their dog walks such as:-
Felton Common
Goblin Coombe
Chew Valley Lake
Dog Walking and Pet Sitting in the Chew Valley Team Manager!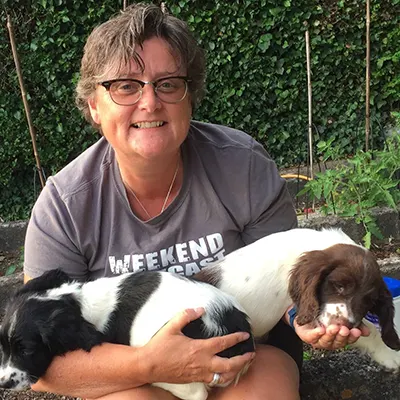 The Friends for Pets Chew Valley dog walking team is managed by Vicki. Vicki has been a dog owner for 25 years, and has lived in the Winford and now Felton in the Chew Valley area for 23 years. Vicki has been working as a manager in the charity sector for nearly 30 years but has always enjoyed the outdoor life, which as an alternative to sitting at desk has kept her healthy. Walking dogs, riding horses and looking after various friends animals including cats, chickens and goats, Vicki has always enjoyed unpaid work with animals and is delighted to have taken over management of the Chew Valley and North Somerset Friends for Pets service. With a wealth of business and management experience and qualifications, Vicki is focused on providing high quality customer service to ensure that you and your pet receive a brilliant service. As an animal lover and owner of two Springer Spaniels, Vicki knows that trusting your pet to another person is a big decision and one which her team undertake with great care. A keen environmentalist, Vicki loves the beautiful local countryside and believes we all have a responsibility to keep it clean, tidy and welcoming for all. Vicki is proud to have joined the Friends for Pets team, and to serve the pet owners of her local community.
Chew Valley Dog Walkers area coverage
The Chew Valley Dog Walking and Pet sitting team covers: Blagdon, Burrington, Bishop Sutton, Chew Magna, Stanton Wick, Dundry, Ubley, Compton Martin, Felton, Winford, Litton, Chewton Mendip, Chew Stoke, Temple Cloud, Paulton, Cameley, Clutton ad Farrington Gurney and many surrounding areas.
Chew Valley Dog Walking and Cat Sitting Services
We have a great dog walking team throughout the Chew Valley and Somerset ranging from retired people who just want to spend some time with your pets to stay-at home mums. Pet sitting services we can offer include:-
Dog Walking
Dog Day Care (licensed with N.Somerset council 80538)
Home from Home Dog Boarding (licensed with N.Somerset council 80538)
Horse Care
Pet Sitting
Small Animal Boarding
Cat Sitting
House Sitting
Puppy Walking & Visiting
All members of our Chew Valley Dog Walking Team are fully insured and have a minimum of a basic Disclosure.
Our Chew Valley Dog Walking Team Prices
Service

Price

Dog Walking 1hr

From £13.50

Dog Walking 45mins

From £12

Dog Boarding

From £30.00

Dog Day Care

From £21.50

Dog Walking 30 mins

£11.00

Pet Visiting

From £8.00

House Sitting

From £60.00

Horse Care

From £15/every part of an hour
Some of our lovely Chew Valley Pet Care team clients!
Chew Dog Walking Team Reviews
C.L., Winford
*****
We much appreciated Katrina's pet diary , which we hadn't seen when we spoke, but it sounded as though Charley didn't present too many problems to her apart from the early wake-ups.. We are very grateful to you both and will happily call upon you again if we need to. Many thanks, especially to Katrina. See more
Chew Valley reviews.