Dog Walking and Pet Sitting
Company in Bradford-on-Avon
Dog Walking in Bradford-on-Avon
Our range of dog walking and pet sitting services in Bradford-on-Avon
The award winning Bradford-on-Avon, Corsham, Westbury and Trowbridge dog walking team was set up in 2012 due to popular demand for our professional dog walking in Wiltshire. We are now able to offer dog walking and pet sitting in Bradford-on-Avon, Corsham, Atworth, Westbury, Trowbridge and surrounding areas throughout the rest of Wiltshire. We have a variety of dog walkers and pet sitters with the different set ups available we hope that we can meet the needs and requirements of all the pets needing our services. We are very careful when selecting members of the dog walking team, as we want our clients to feel totally at ease when their pets are left in Friends for Pets Care. We feel we have achieved this from the very positive feedback we have received. Due to the high demand for our services in this area we are still recruiting new pet sitters so please do get in touch if you are interested in becoming a dog walker. For some of our favourite walks in the area please check out our
Top 10 Dog Walks around Bradford-on-Avon
Dog Walking in Bradford-on-Avon, Corsham and Wiltshire Team Manager!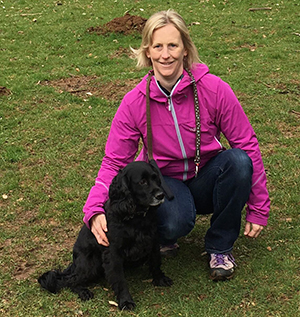 Julia manages the Bradford-on-Avon, Corsham and Trowbridge dog walking team. Julia started working for Friends for Pets as a Pet Carer in 2010 on a part time basis and it didn't take her long to realise that this is what she really wanted to do, and she jumped at the chance to become more involved with Friends for Pets when the opportunity arose. Within a short time Julia started to manage the Bath team and then moved on to manage Bradford on Avon and Frome. Over the last few years, due to demand, the teams have kept growing and now cover quite a large area.
Julia's childhood consisted of spending a lot of time with her various pets, but living next door to a farm she was always either riding the ponies, playing with the dogs, the chickens or the sheep. She has a love for all animals but especially dogs. She doesn't currently have her own dog but thinks of her own doggy clients as part of her family, having cared for most of them for many years.
Julia has now set up a small agility club called Leap Dog agility and she loves watching the dogs and handlers having so much fun together.
Dog Walking in Bradford-on-Avon and Trowbridge
The dog walking Bradford-on-Avon, Westbury and Trowbridge Team covers Atworth, Box, Corsham, Kingsdown, North Colerne, Lacock, Hilperton, Trowbridge, Monkton Farleigh, Bradford-on-Avon, Westwood, Winsley, Melksham, Southwick, North Bradley, Neston, Staverton, West Ashton, Yarnbrook, Whaddon, Woolley Green, Turleigh, Lower Westwood, Farleigh Hungerford, Wingfield, Tellisford, Bradford Leigh, Holt, Little and Great Chalford, South Wraxall, Moor Green, Broughton Common, Shurnold, Paxcroft Mead, Ashton Common, Semmington, Great Hinton, Ashton Common, Lower Rudloe, Biddestone, Slaughterford, Sheldon and Westbury. If you require our services in an area which isn't listed please do contact us as we are taking on new carers all the time and we may be able to help.
Pet Sitting & Dog Walking in Bradford-on-Avon, Corsham and Atworth
Our reliable dog walking team in Wiltshire are able to offer most pet sitting services:-
Dog Walking in Bath
Pet Sitting in Bath
Dog Day Care (licensed with Wilts. council Friends for Pets Bradford-on-Avon LN/000015364)
Dog Home from home Boarding (licensed with Wilts. council Friends for Pets Bradford-on-Avon LN/000015364)
Horse Care
Small Animal Boarding
Cat Sitting in Bath
House Sitting
Puppy Walking and Visiting
All members of our Bradford-on-Avon Dog Walking Team are fully insured and have a minimum of a basic Disclosure.
Our Bradford-on-Avon Dog Walking Team Prices
Service

Price

Dog Walking 1hr

£12.75

Doggy Day Care

£18.50

Overnight Dog Boarding

£22.50

Dog Walking 30 mins

£9

Pet Visiting

From £7

House Sitting

From £30

Small Pet Boarding

From £5
Some of our lovely Bradford-on-Avon team clients!
Bradford-on-Avon Dog Walking Team Reviews
T.H., Corsham
*****
I just wanted to say thank you for your brilliant service. Rebecca and Sarah have done a really good job with Gandalf. The diary was a really nice touch. It was good to be able to read what he was up to. See more
Bradford-on-Avon reviews.