Dog Walking in Bristol
Our range of dog walking and pet sitting services
The Bristol dog walking team was established in 2011 and is managed by Lucy. Lucy and the pet care team can provide a range of dog walking and other pet care services, including overnight boarding, pet visits, doggy day care, small animal boarding, cat sitting and house sitting. We also offer bespoke wedding packages to allow your pet to be a part of your special day. We aim to tailor our services to the needs of you and your pet so please always ask us if you are interested in a different service and we will do our utmost to help. The team covers the whole of the Bristol area from the centre of the city, to the outskirts of town, as well as covering areas such as Wick, Bitton, Longwell Green, Emersons Green and most areas in South Gloucestershire. Please see below for a full list of the postcode areas we cover. We are fully insured and licensed for home boarding. Your animal's welfare and the security of you and your pet are our paramount concern. All of our pet carers hold a basic disclosure and are trained in canine first aid and all of our managers are trained First Responders. We do not arrive at your home in sign written vehicles and we offer our pet carers ongoing training and support. Lucy and her team were awarded the Bristol Business Award 2018 for Customer Service and were also shortlisted for Dog Walking Business of the Year as well as Home Boarding Service of the Year at the Pet Industry Federation Awards 2018. There are so many fantastic places to walk in Bristol but some of our favourites within the city and surrounding include:-
Oldbury Court Estate
Snuff Mills
Eastville Park
Golden Valley at Wick
Warmley Forest
Overscourt Wood
Troopers Hill
Our Bristol Dog Walker Team Manager!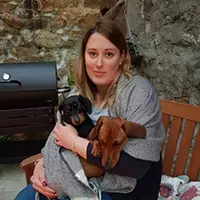 Lucy manages the Bristol Pet Sitting and Dog Walking Team. She lives with her two fur babies, Maisie and Alfie the miniature dachshunds. She has always been an animal lover, having grown up in Wales with cats and dogs in her family, as well as guinea pigs, hamsters, fish and even terrapins at one point! Her background is in law and she qualified as a solicitor almost 15 years ago. In 2018, when Lucy was looking for day care options for Maisie and Alfie, she came across Friends for Pets. She ended up having a conversation with Becca which turned out to be life changing – it came at a time when Lucy was feeling totally disillusioned with working full time in an office environment. She knew she wanted to do something else so when Becca mentioned that an opportunity had come up in the Bristol team she jumped at the chance, and the rest is history! Lucy has a fantastic team of pet carers, as well as her area supervisor Elen. Through the hard work of them all, they have built up an absolutely amazing pet care offering in the Bristol and South Gloucestershire areas. All of our pet carers have close relationships with their clients and their pets and the team really does aim to be part of your extended family! Lucy and her team can offer dog walking, overnight pet boarding, doggy day care, pet visits, cat sitting, house sitting and other services tailored to the needs of you and your pet. Lucy is always looking for excellent pet carers to join the team, so if you are interested in a role with us please apply via our website.
Our Bristol Dog Walking Team Assistant Manager, Elen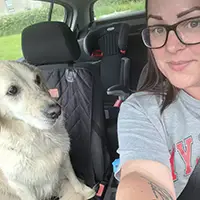 Hi, I'm Elen, or Ellie. I grew up in Wales, and moved back to Brecon in 2016 where I started a family. When Lucy started the Brecon branch of Friends for Pets I jumped at the opportunity to spend time with animals. I love being out walking and spending time with dogs. I truly believe it's good for the soul. We are so lucky to live in such a beautiful part of the UK and I love finding new walks to do.
I'm really passionate about quality pet care, I think it's so important and my motto is "I treat them like they're my own" and I really do stand by it.
I also love helping to manage our Bristol team!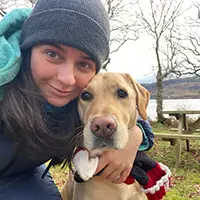 My name is Marisa and I live in Bristol. I own a 5 year old Goldador (golden retriever x Labrador) called Farthing and a 13 year old British shorthair cat called Zelda. After volunteering for Guide Dogs in my gap year, I wanted a career in looking after animals and that's where I found Friends For Pets. And now 4 years later, I wouldn't dream of doing anything else.
The best part of being a pet carer is no matter how bad a day I'm having, when I go to pick dogs up for their walk, they are always so happy to see me. They all never fail to make me smile. I love it.
I reckon the worse part is the British weather! Always unpredictable when walking doggies!
When I'm not walking doggies, I like to catch up on my favourite shows, play video games and read books. An interesting fact is I have a BSc(Hons) degree in Forensic Chemistry but always felt working with animals was what I truly wanted to do.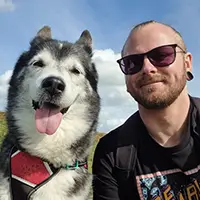 My name is Brad and I've been working with animals for most of my life, from growing up in a house full of pets, volunteering at shelters to being that person who sit on the floor playing with animals and using silly voices. I think it's safe to say that I love animals and partnering up with Friends for Pets in Bristol has been incredible. Together we provide a service like nothing else with a level of care and attention that let's everyone we work with know that we put the animals first. One of the reasons I love this job so much is the joy of walking into someone's home to collect their dog for their daily adventure and seeing the excitement on their faces. I love building a bond with the animals I work with so they know they're safe with me and it's time for them to have some fun, the only downside for me is saying goodbye to them at the end of our time together.
Bristol Dog Walking Team Coverage
Our Dog Walking team in Bristol covers a wide area including:- BS1 (central Bristol and Redcliffe), BS2 (Kingsdown and St Pauls), BS3 (Bedminster, Southville, Totterdown), BS4 (Brislington and Knowle), BS5 (Easton, St Georges and Redfield), BS6 (Cotham and Redland), BS7 (Bishopston and Horfield), BS8 (Clifton, Failand and Hotwells), BS9 (Coombe Dingle, Sneyd Park, Westbury and Henleaze), BS10 (Brentry, Henbury and Southmead), BS11 (Avonmouth and Shirehampton), BS13 (Bedminster Down, Hartcliffe and Withywood), BS14 (Hengrove and Whitchurch), BS15 (Hanham and Kingswood), BS41 (Long Ashton), BS16 (Downend, Fishponds, Mangotsfield, Staplehill, Emersons Green and Pucklechurch), BS30 (Bitton, Longwell Green, Warmley and Wick), BS31 (Keynsham and Saltford), BS32 (Bradley Stoke), BS34 (Patchway and Little Stoke), BS34 (Stoke Gifford), BS35 (Alveston, Rudgeway, Severn Beach and Thornbury), BS36 (Frampton Cotterell and Winterbourne), BS37 (Chipping Sodbury and Yate). (Bristol City License Number AWLA/116809, South GLoucestershire License Number TS/0276/ANBOAR).
Bristol Dog Walker and Pet Sitting Service List
Our Bristol team is able to provide all pet care services to clients. We aim to tailor our services to our clients' needs, but our pet care services include:-
Dog Walking in Bristol
Pawsome Adventure Walks
Pet Sitting in Bristol
Small Animal Boarding
Cat Sitting in Bristol
House Sitting
Horse Care
Bespoke Wedding Packages
Puppy Walking and Visiting
The Bristol team is fully insured and all of our pet carers have a minimum of a basic disclosure, as well as training in canine first aid. Our managers are qualified Canine First Responders.
Our Bristol Dog Walking Team Prices
Service

Price

Dog Walking 1hr

From £16.00

Dog Walking 30mins

£10.00

Doggy Day Care

From £25.00

Overnight Dog Boarding

From £40.00

House Sitting

From £35.00

Small Pet Boarding

From £10.00 per cage per day
Some of our lovely Bristol team clients!
Bristol Dog Walking Team Reviews
S.M., Frampton Cotterell
*****
Lucy looked after my elderly cat Missie for 10 days. We came back to a relaxed and extremely happy cat. Excellent care. See more
Bristol reviews.