Dog Walking and
Pet Sitting in North Somerset
Dog Walking in Weston-super-Mare and Yatton, North Somerset
Our range of dog walking and cat sitting services
Our dog walking North Somerset team was set up in 2008. It was established with the aim of providing high quality pet sitting services including dog day care and dog walking to North Somerset and the surrounding areas. With little advertising other than word of mouth, the professional dog walking company grew (it still is growing!) requiring extra dog walkers and pet carers to be recruited. Our North Somerset dog walking team offer a flexible, reliable dog walking and pet sitting service tailored to your pet 's requirements. We offer a variety of pet sitting packages to suit different budgets. All of our team are fully insured and hold a basic disclosure adding the extra benefit of having home security whilst you are away from your home. Our managers are also Canine First Aid Trained.
Dog Walking and Pet Sitting in North Somerset Team Manager!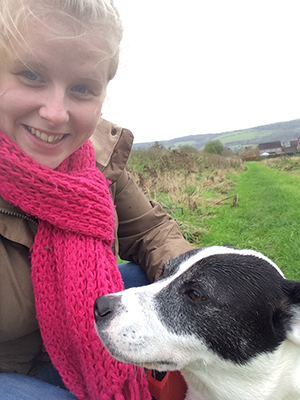 Friends for Pets North Somerset dog walking team is managed by Amy. Amy showed a strong interest in the animal industry from a young age and was always willing to get stuck in helping care for friends and family pets. She completed her National Diploma in Animal Management at Weston College with a triple Distinction working alongside with Badgeworth Arena, extending her knowledge and experience practically. Within her course she took a strong interest in the Animal Behaviour and Nursing topics which helps her today with many of her clients. Amy started working for Friends for Pets in 2009 and took over as Area Manager for the Cheddar dog walking team in 2014. Amy is willing to care for any pet, whether its chickens, horses, dogs, hamsters, she has a strong passion to ensure they are looked after correctly. Amy is also very experienced with horses having worked as a groom providing daily care and being present for vet consultations and many other educational situations. Having had pets all of her life, Amy has the understanding for our clients when they are looking for a reliable and trustworthy team to care for their pets the same as how they are treated at home. Amy has a small team of fantastic dog walkers and pet sitters able to help with all pet sitting services in North Somerset and beyond!
North Somerset Dog Walkers area coverage
The North Somerset dog walking team are able to offer dog walking and cat sitting services in the following areas and surrounding villages:- Wrington, Redhill, Congresbury, Nailsea, Backwell, Claverham, Yatton, Weston-Super-Mare, Banwell, Worle, Cleeve, Flax Bourton, Langford, Churchill, Brockley and surrounding areas.
North Somerset Dog Walking and Cat Sitting Services
We have a great dog walking team throughout the North Somerset ranging from retired people who just want to spend some time with your pets to stay-at home mums. Pet sitting services we can offer include:-
Dog Walking
Dog Day Care (licensed with N.Somerset council 80538)
Home from Home Dog Boarding (licensed with N.Somerset council 80538)
Horse Care
Pet Sitting
Small Animal Boarding
Cat Sitting
House Sitting
Puppy Walking & Visiting
All members of our North Somerset Dog Walking Team are fully insured and have a minimum of a basic Disclosure.
Our North Somerset Dog Walking Team Prices
Service

Price

Dog Walking 1hr

£12

Dog Boarding

From £22.00

Dog Day Care

From £18

Dog Walking 30 mins

£9.00

Pet Visiting

From £7

House Sitting

From £35

Small Pet Boarding

From £7

Horse Care

From £12
Some of our lovely North Somerset Pet Care team clients!
North Somerset Dog Walking Team Reviews
S.F., Cleeve
*****
Rest assured your loved one is in safe hands with these guys. If you're in need of a reliable service in North Somerset then you're looking in the right place. We have used Friends for Pets pet sitting services for our dog Tilly for a couple of years now and we highly recommend them. Jim clearly cares for her and the other dogs; as do the other dog sitters we've met and soon to use. See more
North Somerset reviews.