Find out if we cover your area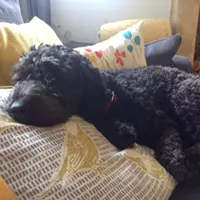 Our Home from Home Dog Boarding service is a great alternative to dog kennels if you are going away and need some pet holiday care. Your dog will get to stay and live in one of our pet carer's homes and live as part of their family whilst you are away. We do only have very limited spaces for this service and not all teams are able to offer home from home dog boarding, so please contact your local team for availability and the options available for your dog's care. We try to match your dog with the pet carer they would be must suited to depending on their availability. For dog boarding services we do get fully booked very quickly, particularly over the summer months and school holidays, so please give us as much notice as you can if you require this service. We will try to provide some recommendations of other companies to help with this service if we are unable to help. In accordance with The Animal Welfare (Licensing of Activities Involving Animals) (England) Regulations 2018 we hold a Dog Home Boarding License with each local authority that we offer Home Boarding in. For details on each areas specific license please see that area webpage. Please note that due to an unprecendented demand in our overnight boarding services we are only able to offer overnight boarding to our current and regular dog walking and doggy day care clients.
Benefits of our Overnight Dog Boarding Services
Home from home dog holiday boarding tries to replicate the dog's life at your home.
Using a cage type dog boarding Kennels has been scientifically proven to reduce the dog's welfare and increase stress in a dog.
You get to meet your pet sitter prior to confirming the booking and pop over with your dog to see where they will be staying and ensure everyone is happy with the arrangements.
Your dog will have a better holiday than you!
Some feedback about our Home from Home Dog Boarding
"Friends for Pets Dog Boarding have been great for my troubled Staffie/Patterdale Terrier cross Dex. Gill looks after him and although she has seen him at his worst she is still willing to look after and love him to bits whilst he stays with her even though he is a difficult case to look after and deal with."HM