Find out if we cover your area
Professional, safe and reliable Dog Walking Services.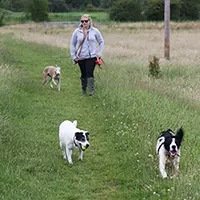 Our Professional Dog Walkers offer a tailor-made dog walking service for your dog. Our usual dog walks last 30 minutes or one hour. However, we can tailor a dog walking service especially for you and can dog walk for any length of time that your dog requires at any time of the day to suit your dog. Our dog walking service is usually on a one-one basis to ensure that your dog gets our full attention. If you prefer, and your dog is neutered and socialised with other dogs, we can arrange for your dog to be walked in a small group of no more than four dogs to ensure your dog's safety and welfare. Our small groups are also less intimidating for other people and dogs that we meet out on our walks and ensure we are able to monitor the dog's health and behaviour more closely and pick up faeces on walks more easily. Our dog walkers will attend your home in an unmarked vehicle so as not to highlight the fact that your home is empty. We are also able to come at a time suited to you and your dog rather than a set time by us, to ensure that your dog gets regular toilet breaks if they are at home alone for the day. If you would prefer your dog to walk in a particular location close to your home (or avoid one) we will also do our best accomodate this.
**NEW** Pawsome Tours!
An extension to our dog walking service, this is where we take our doggie clients on a longer walk in a an exciting, safe location! We have a variety of beach, forest, mountain walks and other beautiful locations in all of our teams. This will give your dog longer out of your house and is a great alternative to our doggy day care service.
Benefits of our Dog Walking Services
We walk your dog tailored to their routine and needs.
We don't arrive at your empty home in marked vehicles.
Your dog walker will leave you a daily diary of your dog's walking adventures or if you prefer, send a text, after their walk.
Some feedback about our Dog Walking Services.
"I have an 18 month old pug. Amanda has been looking after him since he was 12 weeks old and I couldn't recommend her more! Dug absolutely loves her and she is brilliant with him. I am big worrier and wouldn't trust many people with Dug but I trust Amanda completely." SM