Find out if we cover your area
Professional Horse Care Services.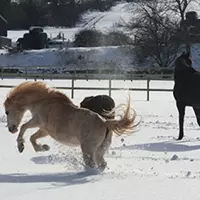 Some of our teams offer Horse Care services. Our experienced pet carers can tailor their service to your needs for when you are away from your horses. Our Horse Care services include from turning out and bringing in, medication administration, grooming, feeding and watering, stable and field cleaning, however we are not able to offer an exercise service for horses.
Horse Sitting benefits
We keep your horse's routine the same whilst you are away.
All our Horse Care pet carers have years of experience with horses.
Your horse will be fussed, groomed and cared for just like it is one of our own!
Some feedback about our Horse Sitting
"Fantastic, reliable service that I couldn't live without. The girls always step in and help with any request I have. My horses are always happy on my return." SB