Find out if we cover your area
Professional and Trusted House Sitting Services.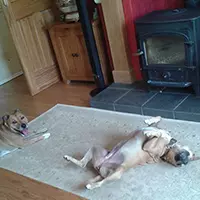 Our House Sitting service is extremely popular and is offered in most of our teams. Our House Sitting service is an extension of the Pet sitting service. One of our house sitters will come and stay In your house for either 12 hours overnight or for 24 hours (or more) whilst you are away from your home. We can arrange for some walks or visits during the day if you choose the 12 hour overnight option. Our house sitting service offers added peace of mind whilst you are away as one of our team will be staying in your home offering extra home security. For our current prices please see your local area page. All of our house sitters hold a minimum of a Basic Disclosure certificate, are fully insured and drive unmarked vehicles. Our 24 hour house sitting service is a nationwide service for longer stays.
House Sitting benefits
Your pets will be in their own home therefore reducing stress of moving to an unfamiliar environment.
Extra home security whether you decide to have 12 hours or 24 hours house sitting.
Your home will be looked after as well as your dog and pets
Some feedback about our House Sitting
"I just wanted to say thank you for your brilliant service. Rebecca and Sarah have done a really good job with Gandalf. The diary was a really nice touch. It was good to be able to read what he was up to." SH