Meet our Award Winning Team!
Find out if we cover your area
Our Dog Walkers and Pet Sitters.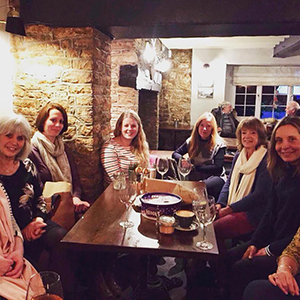 Each area has a small team of exceptional pet carers who are the heart and sole of our business. Our Pet Carers are experienced, reliable, honest, animal lovers. Our Pet Sitters vary in qualifications and experience from being lifelong pet owners to retired Vet nurses and undergraduate Vet Students. Each small team of dog walkers are DBS checked, fully insured, can provide references, arrive at your home in an unmarked vehicle, only walk on a one-one basis or in a small socialised group. All new pet carers undergo training through our in house pet sitter award scheme in pet behaviour, nutrition, handling, first aid and much much more!
Amy W
Cheddar Managing Director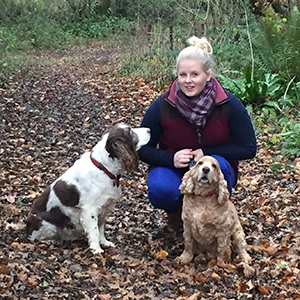 Amy joined the Friends for Pets team in 2009 after completing her National Diploma in Animal Management. Amy now manages the Cheddar, Wells and Chew Valley and North Somerset teams. Amy has had a wide variety of experience with all species of domestic animals from chickens to horses to reptiles and rodents!
Catherine C
Cardiff Managing Director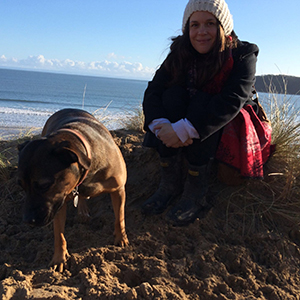 Catherine joined Friends for Pets in 2015 and currently manages the Cardiff team. Catherine has volunteered as a dog walker for Cardiff Dogs Home and is a member of Friends for the Dogs, Wales. Catherine currently has two cats Lily and Daisy and her own rescue staff cross Tess aka 'the bear'! Catherine enjoys regularly walks lots of the Cardiff clients dogs.
Emily
Head office manager and cheddar team admin support
Julia B
Bath, Bradford-on-Avon and Frome Managing Director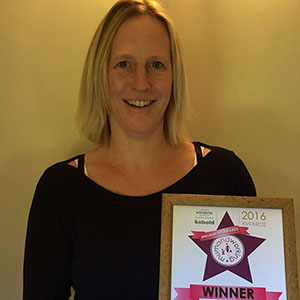 Julia joined the Friends for Pets team in 2010. She currently oversees three territories of Friends for Pets and offers clients an exceptional customer service. Animals have always played an enormous part of Julia's life and she has a vast amount of experience with a wide range of species from hamsters to horses! Julia currently has two very young children so has Alison helping to run her teams.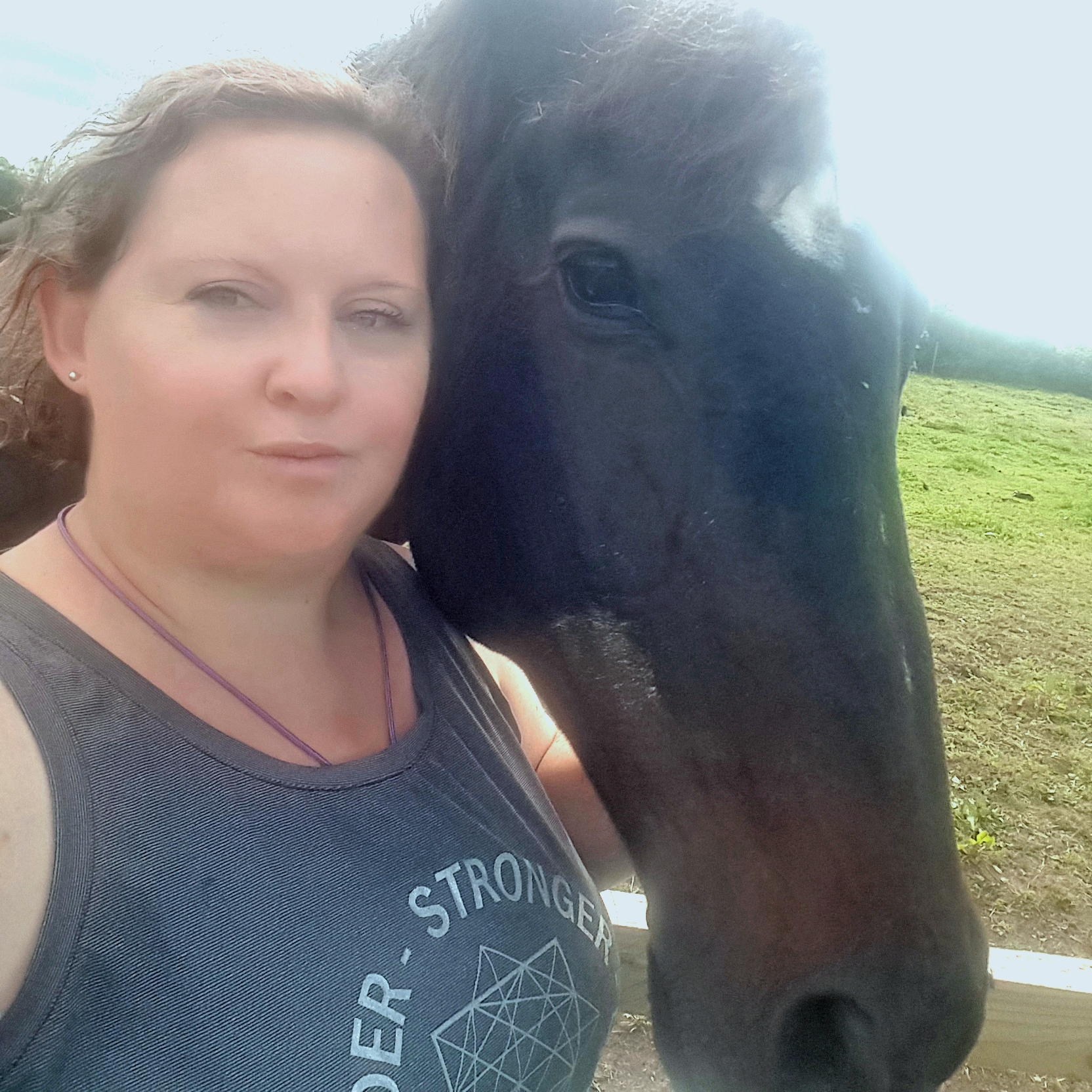 Kim joined the Friends For Pets family in March 2018 when the Bridgwater Team was first set up. She has a lovely group of regular clients and has also been running the Bridgwater social media pages since February 2020. Having lived in Bridgwater all her life, Kim has a good knowledge of the local area. She lives with her son and daughter, their ex-stable cat and a tank of freshwater fish. When she's not out dog walking with one of her fantastic clients, Kim can often be found at the side of a football pitch cheering on her son's football team or spending time with family and friends. Kim has always had a love for all animals and this really shows in her work. Whilst growing up, Kim always had pets at home – Mainly cats, but also tropical fish, rabbits and rats. Kim has also had mice, hamsters, gerbils and land snails as pets. As a child, she helped with her aunty and uncle's rough collies, going to national dog shows with them and being first in line to help with puppy socialization whenever they had a new litter of pups. As well as small animals, Kim has experience with larger animals too. As a child she spent many hours helping at local riding stables in return for extra riding lessons. Kim has spent a large part of the past three years helping at a private yard, with a horse and pony on part loan for some of that time. Kim previously worked as an administrator but, when returning to work after having her two children, decided to fulfil her lifelong dream of working with animals. Prior to joining Friends For Pets Kim was a Branch Co-Ordinator for Cats Protection, which gave her an insight into management, animal welfare, marketing and compliance with legislation within the pet within the pet care sector/industry.
Lucy M
Bristol and Brecon Managing Director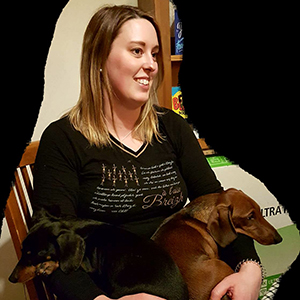 Lucy has always been an animal lover, particularly dogs and cats. In 2016, her fur baby Maisie, the miniature dachshund joined the family and they were joined by Alfie in 2018! Lucy is passionate about customer care, having worked in the legal profession for over ten years. Lucy and her team can offer dog walking, pet boarding, doggy day care, pet visits, house sitting and other services tailored to the needs of you and your pet.
Sam
Newport and Cwmbran Managing Director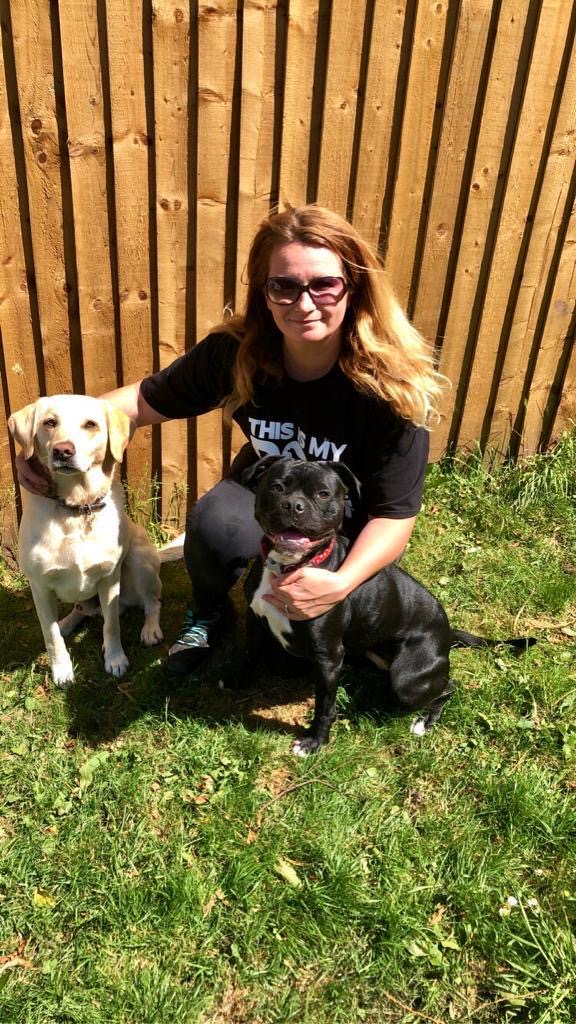 Samantha has a very keen interest in animals and their welfare. Animals have always been a passion for her and from a very young age she had a wide variety of pets including hamsters, rabbits, guinea pigs, cats, dogs, fish and birds also learning to horse ride and eventually owning her own horses and ponies. Her love of animals lead her on to getting a job at Cefn Mably Farm Park where she cared for and supervised a wide range of agricultural animals. Whilst working there she completed a Dog Grooming OCN and a small holding course. After having her second child she returned to work at Walnut Tree Farm Park. Whilst working there she completed a Diploma in Animal Care and Psychology. Samantha lives in Cwmbran with her husband, two children and two dogs - a yellow labrador and a black bulldog. She loves walking them up the mountain and along the canal.Sam has completed a certificate in dog behaviour and is a qualified Pet First Aider. Sam is currently doing an animal physiotherapy course with the aim to help her own and client's dogs with arthritic changes. Sam is also undertaking a dog nutrition course. Sam has a wealth of experience in handling nervous or reactive dogs as well.
Steph H
Cranleigh Managing Director
Steph joined the FFP family in 2022 and runs the Cranleigh franchise. Steph lives in Cranleigh with her beloved dog Boe. Previously to joining FFP, Steph worked in a customer service orientated role in the city but a change in career direction led her to follow her passion and launch her own Friends for Pets dog walking and pet care company.
Steph P
Penarth and the Vale of Glamorgan Managing Director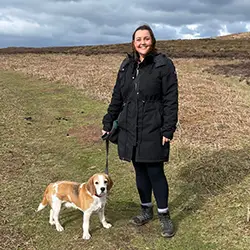 Steph lives in Penarth with her husband, daughter, her Beagle Demi and two cats Pacha & Nibbler. There has always been a menagerie of animals in her life and most of her childhood was spent on the back of a horse. After spending many years working in financial services, Steph realised that her childhood dreams of working with animals was always meant to be. Dogs are her passion and she has experience of handling different breeds of all shapes and sizes. Steph has also recently undertaken a comprehensive Canine First Aid course and is now Manager of the Vale of Glamorgan team, after working with us as a Pet Carer since February 2022.
Vicki M
Chew Valley, North Somerset and Wells Managing Director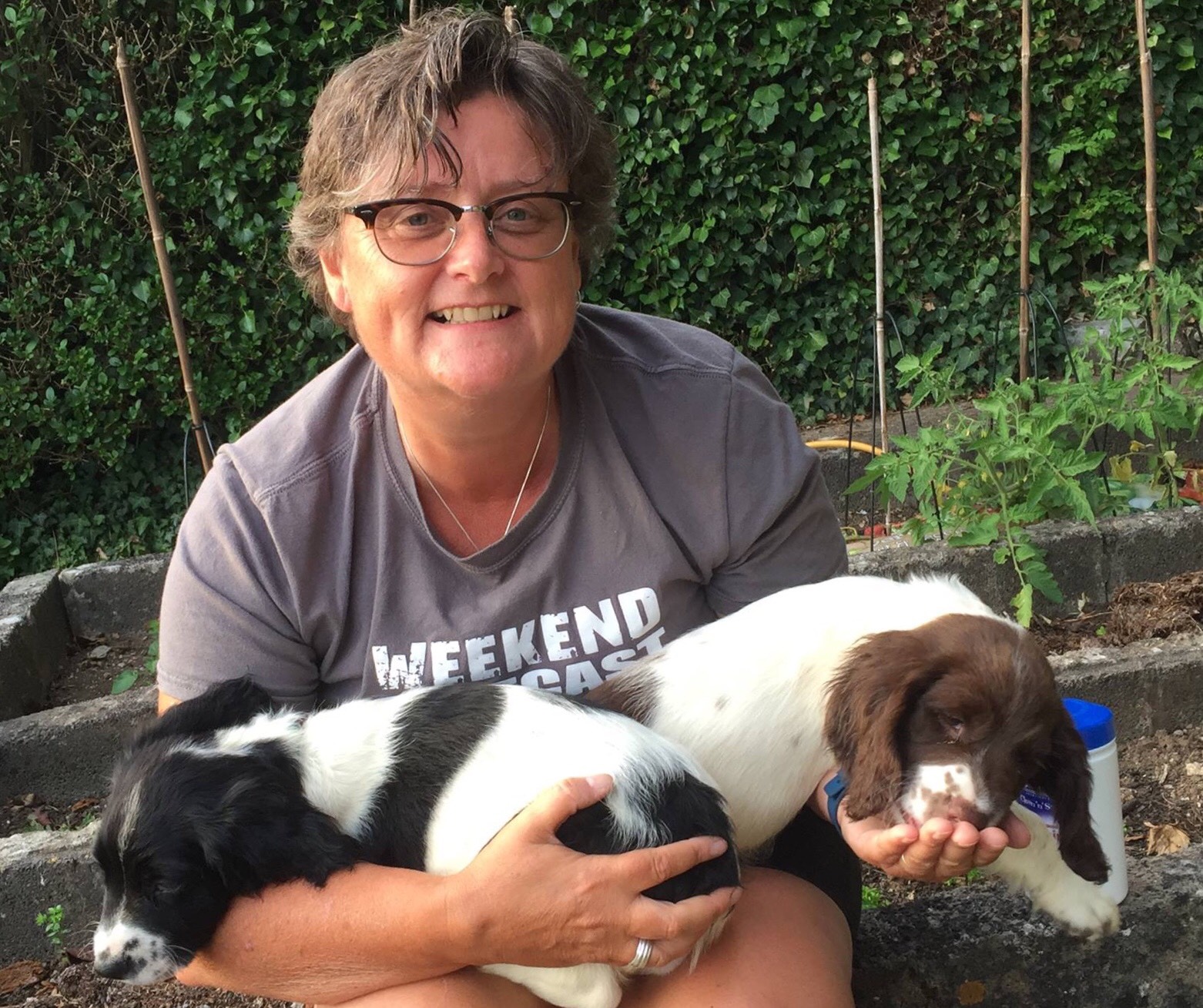 Vicki has been a dog owner for 25 years, and has lived in the Chew Valley area for 22 years. Vicki has been working as a manager in the charity sector for nearly 30 years but has always enjoyed the outdoor life, which as an alternative to sitting at desk has kept her healthy. Walking dogs, riding horses and looking after various friends animals including cats, chickens and goats, Vicki has always enjoyed unpaid work with animals and is delighted to have taken over management of the Chew Valley and North Somerset Friends for Pets service. With a wealth of business and management experience and qualifications, Vicki is focused on providing high quality customer service to ensure that you and your pet receive a brilliant service. As an animal lover and owner of two Springer Spaniels, Vicki knows that trusting your pet to another person is a big decision and one which her team undertake with great care. A keen environmentalist, Vicki loves the beautiful local countryside and believes we all have a responsibility to keep it clean, tidy and welcoming for all. Vicki is proud to have joined the Friends for Pets team, and to serve the pet owners of her local community.
Tash M
Pet First Aid Instructor and Pet Carer Trainer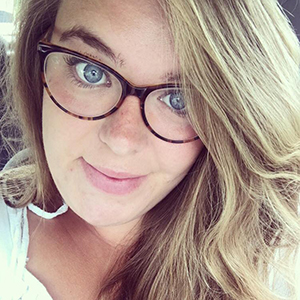 Tash is our qualified dog first aid instructor. Tash has grown up around animals and had a love for them which fuelled her education; a BTEC in Applied Animal Management and then a BSc Applied Animal Management. Tash joined Friends for Pets as a pet carer and then completed her Canine First Aid Responder Instructor qualification with MJ First Aid Training to become our dog first aid instructor. Tash also oversees our Team Training and Development as well as helping Becca in head office.
Becca W
FFP Founder and Managing Director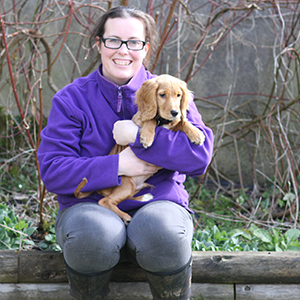 Becca founded Friends for Pets. She grew up and lives in the Cheddar Valley of Somerset. She has two horses, Fudge and Blaze, two cats, Bob and Bella, as well as two young children to keep her busy! After completing her MSc in Animal Science, Becca worked for an International Working Animal Charity in Pakistan and Ethiopia working as an animal behaviour and welfare scientist helping with research projects and teaching Veterinary workers. Becca is also a qualified lecturer and has taught undergraduate Vet students and Further Education Animal students in the UK. Becca also assists with the writing and reviewing of Animal Welfare Policy and Law in the UK.